Fireplace Review Time
Hello all you DIY'ers and welcome to this edition of, "That Awesome DIY Fireplace" where we introduce a DIY homeowner, tell you what state they reside in, and show you how awesome they were at building their own outdoor fireplace.
Who is Our DIY Builder?
We venture to Illinois to introduce homeowner Mario, who decided to build the Douglas Mini design.  Mario reached out to Backyard Flare and ordered his DIY construction plan.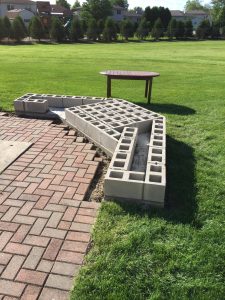 Mario's backyard has a great looking grassy area with a brick patio.  The corner of the patio needed a new addition though, so an outdoor fireplace was the obvious choice.   Mario started building his fireplace as per the construction plan and got to the top of the firebox lintel.
Modification Time
Mario elected to make some modifications to the chimney portion of the build to give the top an angled look.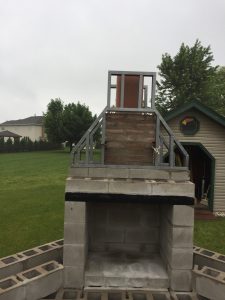 To achieve these angles, Mario used metal stud for the framework, using small self-tapping screws to tie the metal sections together.  It's very important to make sure the angles are the same on each side.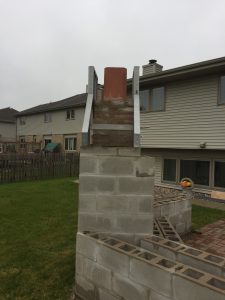 Finishing the Fireplace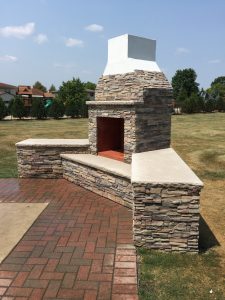 Mario finished his fireplace with a beautiful stone veneer and natural stone horizontal surfaces.  The firebox was finished in a red firebrick, providing a cool look.  Mario bought a metal fire grate and it looks like a perfectly cut piece of aspen pine is laying there ready for a good burn.
The brick patio was laid back down to the front of the hearth, giving it an almost seamless look.  If you look closely, the angles of the chimney match the door on the shed behind it.  I really think Mario did this on purpose to tie the backyard together.  It really works, and we love it.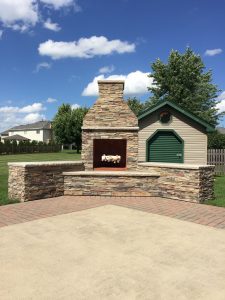 Are You Ready to Build?  Now is a Great Time
How has this DIY fireplace inspired you?  Are you ready to build your masterpiece like Mario did?  Backyard Flare can help you with any worries or concerns of the masonry word, and even with design help.  We have assisted hundreds of homeowners who are weekend DIY'ers, and we can help you realize your potential to build a fireplace just like Mario's.  You can do it too.
Check back on our blog page periodically and follow us on Instagram and Facebook for additional photographs and information.  We love to share great pictures and we really enjoy bragging about our customers, so we hope to hear from you.
Thanks so much for reading about another great DIY fireplace build.   We'll bring you more soon, and as always …happy building.
Dan Heston