DIY Outdoor Fireplace Review
Hello all you DIY'ers and welcome to this edition of, "That Awesome DIY Fireplace" where we introduce a DIY homeowner, tell you what state they reside in, and show you how awesome they were at building their own outdoor fireplace.  They do it all by themselves with a little help from us here at Backyard Flare.
Let's Go Down to Arizona
We venture not far from Backyard Flare headquarters in Arizona to introduce homeowner Jason.  A DIY guy who decided to build the popular Pima II fireplace design using the proven Backyard Flare outdoor fireplace construction plan.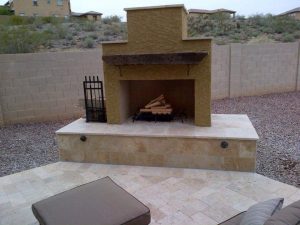 Jason has the traditional landscape rock in his yard as most of us do in southern Arizona.  A stunning tile patio was built with a perimeter tile of the same type.  The Pima II fireplace is built on a 45 degree angle to the patio.  The fireplace measuring just wider than eight feet is a perfect addition to this space and with wrap-around seating, lots of horizontal surface is available.
To keep continuity, Jason used the same tile for the patio to wrap up the hearth of the outdoor fireplace.  This tile then extends to the horizontal seating surface, which gives it a great finished and well thought-out look.  Jason added electrical line for low voltage lighting in the hearth, giving the fireplace a subtle look at night even when it's not being used.  This outdoor fireplace is backyard furniture for sure, providing a great focal point.
Stucco Is a Cost Saving Veneer Choice
For the main vertical firebox and chimney sections, Jason elected to use stucco as the finish material.  In Arizona, as with many other states, this matches the home's exterior, which also keeps the theme going throughout.  With the texture and darker earth tone paint, it blends really nice with the natural desert landscape seen behind Jason's block wall.  The horizontal sections of the chimney and the top were covered with matching tile, which was saw cut with a diamond blade.  Super simple by the way.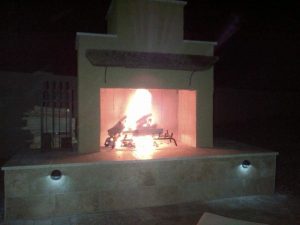 Jason wanted to add some pop, so he finished the front of his outdoor fireplace with a gorgeous piece of distressed wood for his mantel.  Wanting to match other elements, Jason used metal brackets underneath the wood.  These metal brackets match the metal fireplace tool set and the metal fire grate in the firebox.  Jason got ready and stacked a pile of pine in the firebox, ready for a great nighttime burn.  I'm sure the neighbors stare out their back doors at the glow from the chimney and they smell the sweet smell of burning pine.
Help is Available
How has this outdoor fireplace inspired you?  Are you ready to build your masterpiece like Jason did and transition your backyard space?  Backyard Flare can help you with any worries or concerns of the masonry world, and even with design help.  We have assisted hundreds of homeowners who are weekend DIY'ers, realize their potential to build outdoor fireplaces just like Jason's, and you can do it too.
Thanks so much for reading about another great DIY outdoor fireplace build.   We'll bring you more soon, and as always …happy building.
Dan Heston