How Much $$$ Can Be Saved?
Backyard Renovation Pricing
Backyard Flare is dedicated to helping our customers.  We want you to have as much information as possible before you step into a backyard addition.  We want you to understand backyard renovation pricing.  One question I get quite often from inquisitive DIYers is how much money can be saved by not using a contractor to build an outdoor fireplace.  With this question, there is no "one" answer and the savings, albeit a guarantee, cannot be exactly quantified.  There are costs that will be a surety, such as labor, but each contractor bills a little bit different.  There is no exact savings amount, other than saying a lot, unless you have an itemized quote from a contractor that you then compare to what you will spend.
Now let's break this down a step further.  Most contractors do an excellent job and I believe you will get your fireplace built if you choose to go the route of a contractor to get it done.  I can't step on the back-breaking work that they perform day in and day out.  It's a tiring business for sure and they definitely deserve a pat on the back and some kudos.
Backyard Renovation Pricing
Having said that, you may be wondering about how contractors bill for jobs.  If you have elicited the work of a contractor for anything in the past, you will notice that some will give you a written estimate and others will come over and throw a monetary figure at you after looking at the building area for a few minutes.
A written estimate is better for you, provided it is broken down into independent materials and labor costs.  This will tell you roughly what they think the materials will cost with their slight mark up.  Most contractors will make a few dollars on materials as well, with the understanding that they had to go load them, deliver them, and then unload them at your worksite.  It's a lot of work so it's an okay upcharge, I guess.
Tactics and More Tactics
The contractors that throw out a price with no explanation of materials and labor make me smile.  These contractors are betting that you will jump at the offer and that you won't throw up any objection.  Long and short, they don't want you to know the breakdown of the profit they are making. It's okay to haggle and negotiate too.  Remember, this is your backyard, and they will be working for you.  You dictate whether they leave each day with trash all over the place and you will be watching them while they finish the build.
These two quotation methods from contractors drastically differ but both are widely used.  Some that don't write the job estimate are good at what they do and will provide a breakdown if asked to.  Just remember that you will probably be a bit shocked at how much contractors will charge for labor. It will make up the majority of the quote.  It's a good living for company owners, believe me on that one.
So What Do You Do?
So, you have an option.  Either go with a contractor or elect to try to build the fireplace with your own two hands.  This is where the music is queued, and we emerge at the top of a hill with a DIY construction plan.  We swoop down to your backyard and hand it to you, and then we stand off to the side, waiting for questions while you build.  The trailer for the movie seems so awesome, but deep down we know that the movie will probably never be made. I guess we'll stick to creating the construction plans and to our design work.
We Think DIY is the Best Build Decision
Enough already… we have more explanation to get back to.  When you build yourself, the labor that contractors charge won't be an issue. There won't be a subtraction from your bank account for labor as you'll be the labor force behind the entire build.  This shouldn't scare you either.  We have had a lot of customers who have done amazing at building their own fireplaces and they have never worked with mortar or block.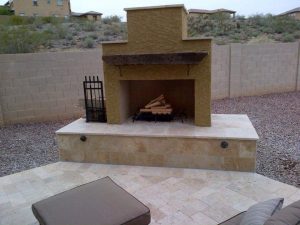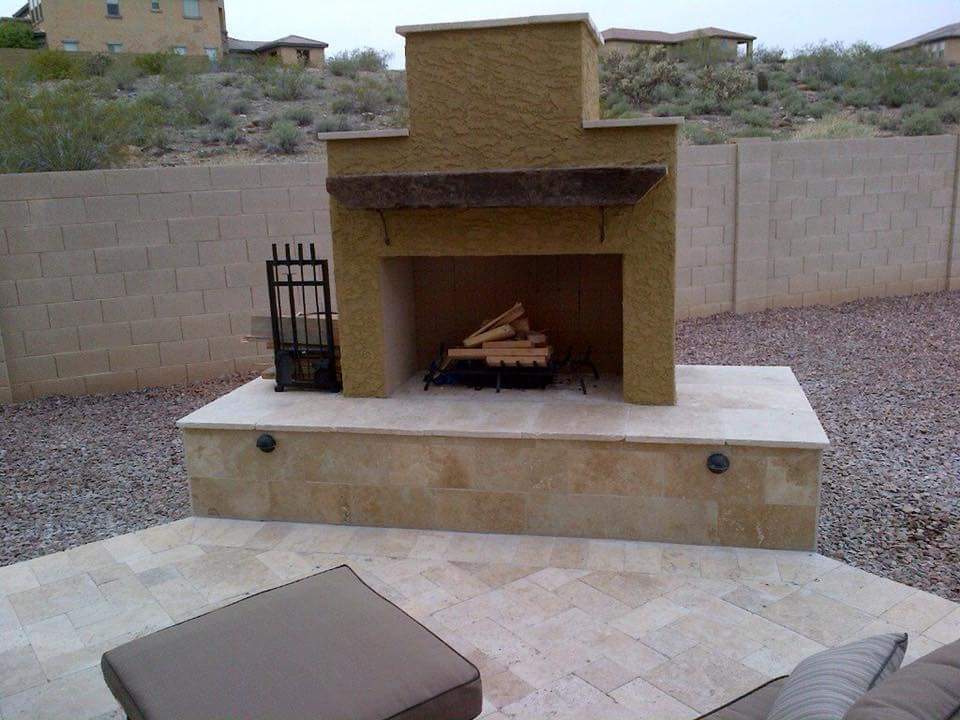 One such customer, Jason, sent us pictures of his DIY Pima II outdoor fireplace to share.  After sharing them on our Instagram page, we asked him some pricing questions about his DIY build.  Jason replied, "I got quotes for $7k-$9k to build this exact plan and I built it for $1,600-$1,800.  Two easy weekends with my dad.  It was super easy with your step by step guide.  I'm a banker by trade so I've never done concrete block work ever."
We're so happy that Jason had a great experience and that's an amazing savings of at least $5,200.  That's a lot of money still in Jason's bank account and the best part is it sounds like he really had a good time with his dad while building the fireplace.  Backyard renovation pricing wasn't a big deal to Jason because he opted to save the money and pay sweat equity instead.
We're Here to Help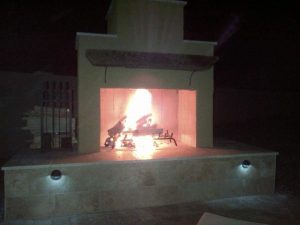 Think about that when you contemplate your options.  Building your own DIY outdoor fireplace doesn't have to be stressful or worrisome.  We have what you need to walk you through the process of a DIY outdoor fireplace.  Visit us at www.backyardflare.com for great design ideas and information.  We can help you with a great layout and will work with you personally to ensure you have the information you need to comfortably move forward in the DIY construction world.  Build with one of our DIY construction plans and let us worry about the logistics of the design.  You simply have fun and marvel at what your hard work.  Thank you so much for reading and as always… happy building.
-Dan