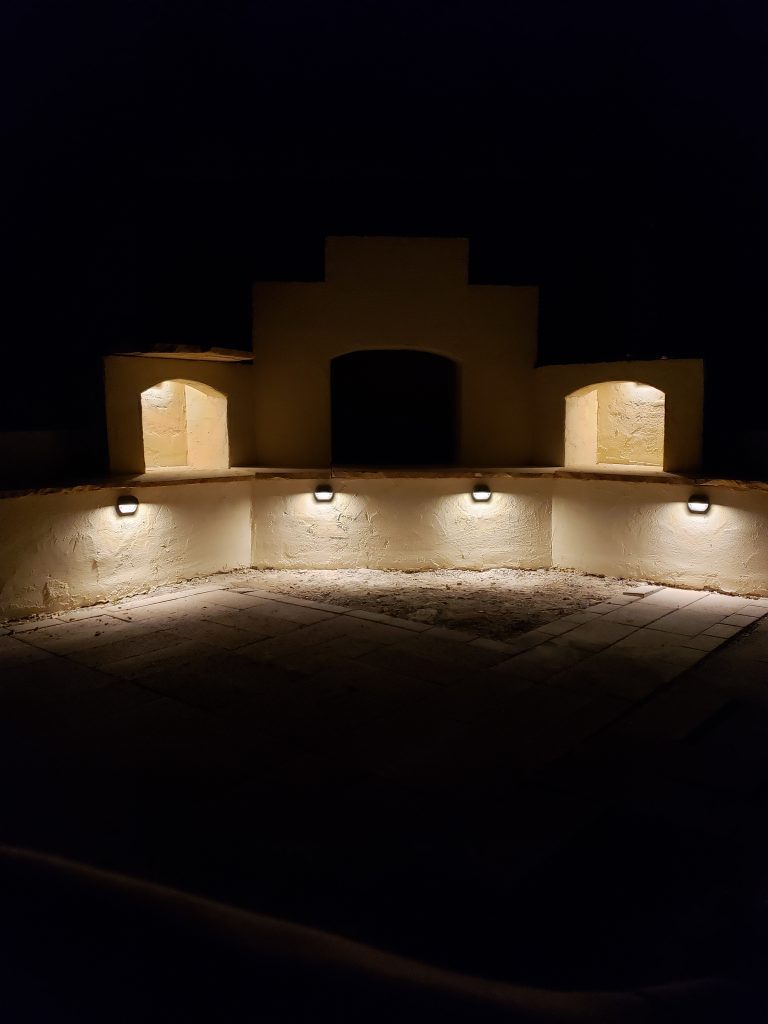 There are many ways to install backyard lighting in your outdoor space.  In this quick tutorial, we'd like to specifically go over our method of installing low voltage lighting in a outdoor fireplace structure.  We are currently building an amazing DIY outdoor fireplace at my in-law's house in Marana, Arizona, a suburb of Tucson, and it is turning out beautiful.  To include that "extra something", we made sure to add a little lighting to the fireplace, so it really shows off the structure at night.  Backyard lighting makes the world of difference when added tastefully.  Just a little goes a long way.
Bring Your Backyard To Life
Even when we aren't enjoying the warmth of a fire, we want to be able to look out the window into the backyard and see the fireplace, and the lighting will really make that happen. The backyard lighting also gives off enough ambient light, so the backyard isn't completely dark. We want to be able to go outside and walk around the backyard at night without having to turn on all the exterior patio lights.
Lowes? Yep…They're Everywhere
Here at Backyard Flare, we love to shop at Lowes Home Improvement because they have so much variety in their departments. Follow them on Instagram at @loweshomeimprovement for great pics and design ideas. For the lighting on our structure, we ventured to the outdoor lighting aisle and we picked up a Hampton Bay 150W transformer, a 100-foot spool of low voltage lighting cord, and six Hampton Bay LED lights. The total was about $125, but you'll see that it was worth every penny.
Backyard Lighting Installation
So, let's get into the installation method. To understand low voltage lighting, it is important to know that it's like powering a light bulb with a battery. A transformer will plug into a wall outlet, but the alternating current from the outlet will be converted in the transformer to direct current, like a battery. The 100-foot power cord is attached to the back of the transformer like you would attach speaker cord to a receiver, only a screw driver is used after the ends of the wires are stripped.

We routed the cord to the structure, and it entered on the back-left side. We ran it through the structure, cutting grooves into the tops of the cinder blocks for channels where necessary. The cord ran everywhere we wanted lights, and then it exited the back-right side of the fireplace.
Light Positioning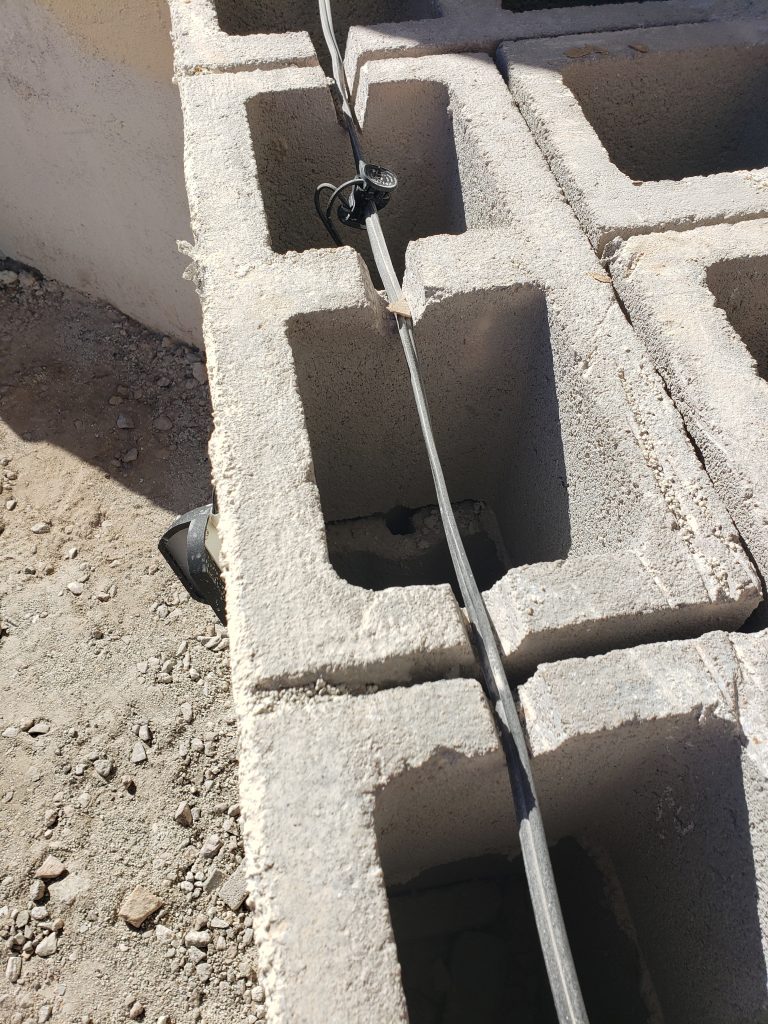 Once we figured out exactly where we wanted the lights, we used a 3/8" masonry drill bit and drilled holes big enough to pass the LED light connector through the block. Inside the block, the lights' push pin connectors were attached to the power cord and… we had light. The lights were attached to the front of the structure using wall anchors in the block. To install the wall anchors, we drilled more holes using a ¼" masonry drill bit. It's just like adding them to drywall, but with a little bit more dust.
We made sure to add a light on the inside of each storage void too so the voids would be back-lit. It added a lot of appeal to the look of the structure and sure made a huge impact at night. The addition of light to an outdoor fireplace or kitchen is super simple and we know that you can do it. We sure hope this helped you out and that it eased your hesitation to add lighting to your structure or backyard. If you're interested in building your own DIY outdoor fireplace or outdoor kitchen, visit us at Backyard Flare for the best and most comprehensive outdoor construction plans on the market.
Show Us What Your Lighting
We would love to see some of your outdoor lighting. Please send pics of your projects to dan@backyardflare.com. Thanks for reading, and I hope you learned something here. Until next time, have fun on your outdoor projects and happy building.
Dan Heston
Backyard Flare, LLC
Tucson, Arizona
www.backyardflare.com
www.diyoutdoorfireplaces.com
520-269-9740