It Started in Florida
Let's talk about two beautiful DIY fireplaces built by the same people, years apart, in two different states.  These fireplaces transformed their backyards into such welcoming areas.  But first, let's meet our player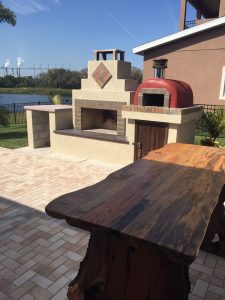 s.  Husband and wife team, Marko and Kelly, were customers of Backyard Flare years ago and they built a stunning DIY outdoor fireplace and pizza oven combo when they lived in sunny Florida.  They used a Backyard Flare construction plan and the backyard was positively changed forever.  The structure drew lots of accolades from Backyard Flare followers and it was definitely a beautiful, one of a kind, fireplace.  It's easy to see why so many people were raving about it.  It was so different than most.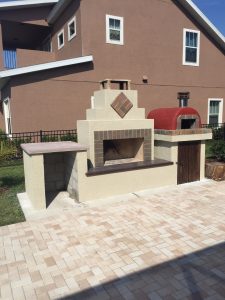 I have seen lots of pizza ovens and most are earth tone colors.  Marko and Kelly decided that a bold and deep reddish color would look great on their oven instead of keeping it like everyone else's ovens.  I have to say, I was impressed with the color choice. It worked so well with the surrounding area and it brought a pop of color not seen anywhere else in their yard.  Coupled with the dark tones of the accent tile and the light color stucco, it was a hit.  I'm sure it made a huge impact in the sale of their home, bringing in more money on the sale, than they would have had with a plain Jane backyard.
And then They Moved
Now fast forward a few years, with Marko and Kelly relocated to the great state of Utah.  They bought a new home and needed to bring the backyard up to a standard they were used to.  The new fireplace structure, although smaller than the Florida fireplace, is no less impressive.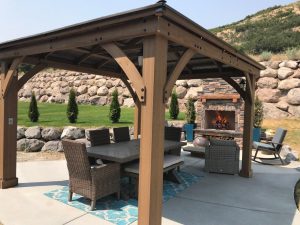 The fireplace sports a square topped firebox and an equally wide firewood storage void under the hearth.  Natural stone is on the horizontal surfaces, including the top of the fireplace.  Keeping with the earth tone feel, Marko and Kelly added a wood mantel and a beautiful faux stone veneer.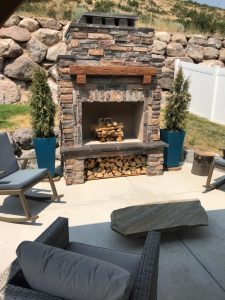 It's not just the fireplace that brings the total feel to the backyard.  The natural flagstone table in front of the fireplace draws the earth tones to the patio. A huge pergola with a large outdoor table is the perfect place to have an outdoor dinner or just a place to sit and really relax. The white picket fence in the background with the bold green grass, adds contrast to the whole picture.  The large boulder wall behind the fireplace and the slight hill with natural vegetation adds to the rustic look as compared to the veneer on the fireplace.  The bold color on the pots to the sides of the fireplace make the structure appear to be wider than it is.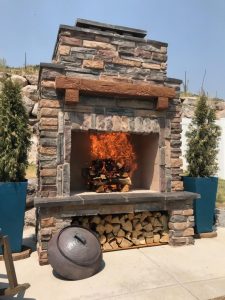 This is such a beautiful fireplace and I am sure this backyard will create lots of great memories.  Great job Marko and Kelly.  We are sure you will continue to enjoy your backyard paradise and we hope you will continue to share your fireplace with us.
Kudos Go Out
Special thanks to Marko and Kelly for sharing these great photos with us and allowing us to share them with the world. Also, thank you to all our faithful readers out there and to those who just found us.  We can help you with your outdoor fireplace dream.  Visit our website at www.backyardflare.com for some great inspiration and fireplace ideas.
Check us Out on Social Media
Please follow us on Facebook and Instagram for lots of cool info and fun pics and video.  Thanks for reading and as I always say…happy building.
-Dan