Hanging a Fireplace Mantel
You have probably seen a lot of fireplaces built without mantels and with a clean front face to them above the firebox.  Inversely, lots of fireplaces have been built with shelves, commonly referred to as a mantel, above the firebox.  Either look is cool but I've always thought the mantel addition to the front of an outdoor fireplace was a neat touch.  Hanging a fireplace mantel can be difficult depending on the type of material used.  The most widely used mantel material is wood so we'll cover that in this post.
What Now
So let's assume you are done with your fireplace rough build, finished to a bare cinder block front face.  You now have a drab gray block wall and you want to know how to hang the large four foot wide, railroad smelling, piece of dark beautiful wood as a mantel. That sure is a descriptive mouthful, but there is a bit of worry in the planning.  The last thing you want is for the mantel to come down or appear to sag at all in the life of your fireplace.
We have an installation method for your heavy wood fireplace mantel, using pieces of steel.  Have you ever paid attention the hinge side of a door in your house?  If not, open one up.  Look at the hinge and see how the edge of the door has been cut out in the shape of the hinge.  This allows the hinge to be recessed into the door, allowing the smaller gaps when the door is closed.
Get Some Supplies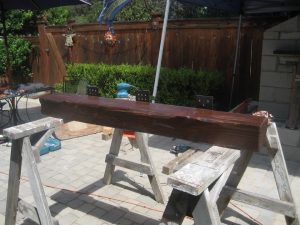 You can use that same technique when hanging a wood mantel to the front surface of the fireplace.  You will need at least two or three pieces of 1/8" thick steel.  These pieces of steel will be about 2"-3" wide and about 10"-12" long, depending on the size of your mantel obviously.  You can use a chisel and hammer or a router and cutting bit for a faster method.  Cut out the back of the wood from the top, equal to the width of the metal.  As an example, if you have an 8" tall railroad tie, you will probably want to cut out at least 5"-6" down, assuming your piece of metal was about 10" long.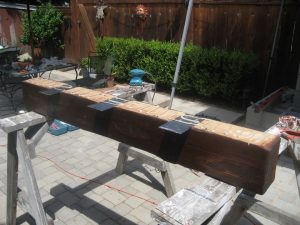 This metal will be bolted to the wood with some pretty gnarly screws or bolts.  Using a heavy threaded bolt will insure a good bite into the wood.  You will drill holes in the metal and put a couple of bolts in the wood, per piece of metal.  The metal will be pretty flush with the back of the wood and the head of the bolt may be a bit further out.  No biggie.
Your mantel can now be held up by your favorite helpers or suspended with vertical wood pieces.  Drill some more holes in the exposed section of metal above the wood and mark your holes on the cinder block.  Drill into the block and add lags.  These lags are like wall anchors in your drywall.  They will expand when a bolt is screwed into them.
At the End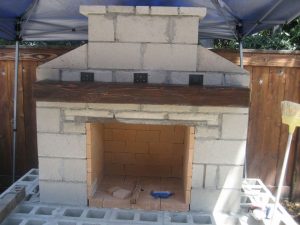 Once the mantel is in place, it may have a slight front tilt, but that's okay for water runoff.  You can shore up the underside of the wood with some shims to even it out if it is leaning too far forward.  The veneer will be applied to the structure and directly over the metal that is holding the mantel in place.  The mantel will appear to be floating and your guests will think you're a genius for being able to complete such a feat.
We hope you can use this technique and that you'll send us some pics of your install.  Hanging a fireplace mantel doesn't have to be a hard task, so we hope you'll try to DIY the job.  We'd love to see how it turned out for you and in your project so send pics.  If you have any questions about hanging fireplace mantels or anything else about your outdoor fireplace, let us know.  We can be reached at dan@backyardflare.com or at 520-269-9740.  Check out www.backyardflare.com for great DIY fireplace inspiration.  As always, happy building.