Feeling Apprehensive?
You can do it!!!  I remember receiving a phone call from Shelley who said she lived in New Jersey.  Shelley explained to me that she was single, in her sixties, and that she lived on a piece of property that had a small creek running through it down the hill from her backyard.  Shelley explained that she really wanted an outdoor fireplace but that she was super apprehensive about doing it herself.  Because of the limited knowledge she had about masonry construction, Shelley was concerned with her age and ability to do the physical labor.  I asked her some questions about her ability to lift and explained what the project would require.
Shelley Said Yes to the Outdoor Fireplace
We talked it through, and by the end, Shelley was ready to take on the challenge.  A DIY outdoor fireplace does not have to be intimidating or seem out of the realm of possibility if you have the right tools, preparation, and a good plan.  A construction plan that is…something that will take the guess work out of the project.  If you are physically able to lift a 60-pound bag of mortar, or if you have someone who can do it for you, that's the first step.  If you're willing to step into a work site with an open mind, then you too can do what Shelley did.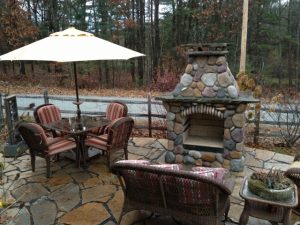 Shelley built her very own DIY outdoor fireplace and although it was small, it made a huge impact in her backyard and it is definitely a focal point.  Do you agree, and do you think you want to join the DIY world?  She had us do some special design work to make the fireplace what she wanted.  We angled the chimney on all sides and designed the firebox to be low on the structure, which gave it a neat look.
It Was Fun According to Shelley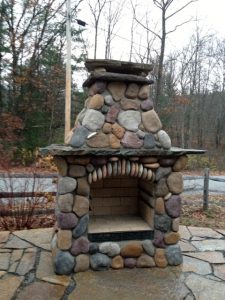 After building the structure, Shelley said that she took her time and didn't push hard to get it done quickly.  She said that if she could do it in her sixties, then anyone could do it.  This is a testament that most people have the capability to do more than they truly think.  There is an inner construction worker in most of us.  Give your insecurities to us and let us provide you with a DIY construction plan.  If you follow it, you to will be able to build a beautiful outdoor fireplace just like Shelley did.
If you are wanting to learn more about the process of building a DIY outdoor fireplace, visit us online at Backyard Flare.  We know that you can do it and that we can help.  A construction plan may be exactly what you need to overcome the fear of building so you can DIY too.  Thanks so much for reading and we hope to hear from you soon.  Leave a comment and let us know if you think you're up for a DIY project.
As always, happy building,
Dan