The Backyard Transformation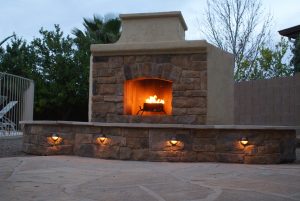 Outdoor fireplace design was on my mind from the beginning but how it happened was luck on my part.  Sometimes an opportunity to step into the do it yourself (DIY) world leads to a fantastic learning experience and you have to grab it by the horns.
I was standing in my house years ago looking out the window into my backyard and I knew something was missing.  We had even worked on the backyard for a couple years and felt done.  I walked out the sliding glass door onto my drab grey patio and took it all in.  My backyard is exactly 60' wide and 60' deep.  Our 5′ tall cinder block perimeter wall is the usual property division method in southern Arizona.
The primary addition to the backyard was a pool which was surrounded by brown landscape rock.  Flagstone was laid down as the extension of the concrete patio at the back of the house.  At the back corners of the flagstone were knee high planters constructed from stackable prefab blocks.  The right side of the yard was bare and needed something else.  The planter looked a bit out of place and it wasn't that interesting.  I needed balance and aesthetics.
Outdoor Fireplace Design Explained
My wife and I had seen outdoor fireplaces and fire pits on image searches while perusing landscape websites and I strongly considered one of these fire structures.  I had knowledge of masonry construction but had never built anything large scale.  We decided that a fireplace largely outweighed the fire pit idea after discussing our backyard layout.  We wanted the larger focal point so the fireplace was our decision. Continue reading "Outdoor Fireplace Design"