Build Your Stunning Outdoor Living Area
This week's backyard profile goes out to Adam in the great state of Washington.  What a great job Adam did, building his stunning outdoor living area, with the help of Backyard Flare and their design team.  But… Adam went the extra mile and he constructed an outdoor destination complete with a fireplace, outdoor kitchen, and patio cover on steroids.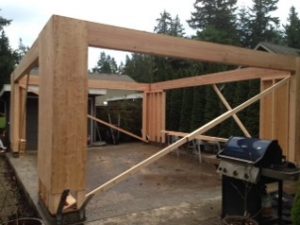 The blank slate started with the building of the wood framed pergola.  A pitched roof with a decorative underbelly and drop lights covered a large footprint.  This cover offered the living area with a respite from the sun or the probable Washington State rainfall.  The support beams of the patio cover were stained darker than the wood slats.  What a great look.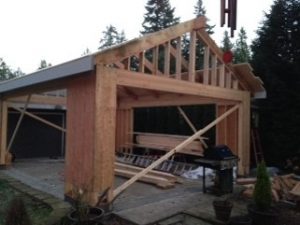 Finishing the Patio Cover
Brilliant white trim accented the beautiful gray tone siding and then fantastic light sconces were set on the vertical corner sections.  These lights provided ample light and amazing ambiance for the outside of the patio cover.  A rugged transition to the ground was accomplished by covering the bottoms of the corner pillars a great faux stone veneer.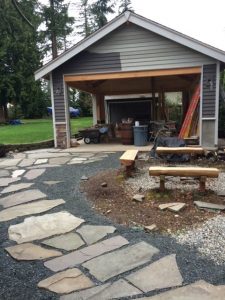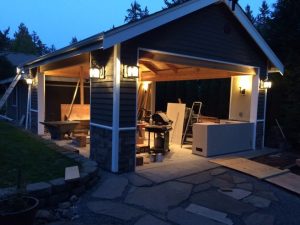 Flagstone was laid in an erratic pattern to form the approach to the covered patio.  The earth tone colored stone was broken into large sections and then placed into the soil.
Outdoor Kitchen Construction
One corner of the structure was used as a partial wall for a very large outdoor kitchen.  The structure was then equipped with a stainless-steel drop in barbecue grill, stainless access door, and several linear feet of counter top for cooking preparation.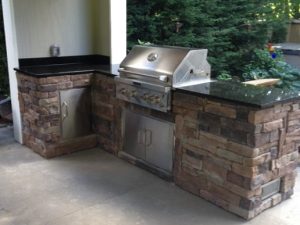 Outdoor Fireplace Construction
Afterward, lots of cinder block was delivered for the Backyard Flare designed fireplace.  Adam used the construction plan from Backyard Flare to build his fireplace structure with ground level storage voids.  Subsequently, these storage voids worked well aesthetically on each side.
After the cinder block rough build was completed to the top of the two-tiered chimney stack, the veneer was then applied. This veneer matched the veneer used on the outdoor kitchen and the bottoms of the patio pillars which added a great overall look.  The horizontal surfaces of the fireplace were covered with a dark stone, complimenting the veneer perfectly.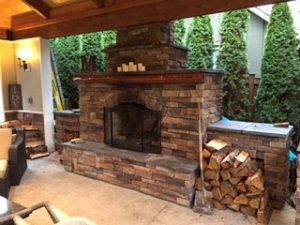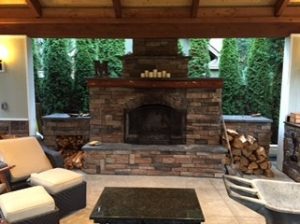 A mantel was added to the front width of the fireplace and then veneer was added to the structure.  Adam took a blank section of his yard and then transformed it into a very welcoming outdoor living area.  I'm sure he and his family and friends have spent many days and nights making great memories.
If you would like to build an outdoor structure such as a fireplace or outdoor kitchen visit us at www.backyardflare.com.  We will help you with all your design needs and can take most of the guess work out of it.  Thanks for reading and we hope to hear from you.  Happy building!