Five Ways to Make a Beautiful Backyard
There are so many ways to make a beautiful backyard and so many different things to make it a 'one of a kind'.  If a backyard was just a standard layout and everyone did the same thing, where would the fun be?  For as long as people have been living in houses, they have strived to create outdoor living spaces full of functionality and beauty.  Backyard popularity and the drive to create the perfect outdoor space has always been there, and I feel the things to build, construct, and add are more abundant now than ever.  So many options and so little time.  Here is Backyard Flare's list of 'Five Ways to Make a Beautiful Backyard'.
Outdoor Fireplace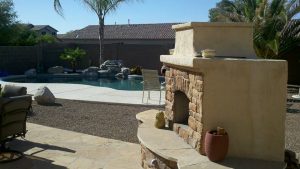 First and foremost, we love outdoor fireplaces and bang for your buck, they are amazing.  They seem to be the one thing outdoors that will bring you a massive return on your investment.  What you may spend a few hundred dollars on could gain thousands in return at time of sale.  Outdoor fireplaces are our bread and butter and it's what we think about day and night.  We are always talking to DIY homeowners about different layout possibilities and available building footprints.  It seems like people are building fireplaces in spaces small and large.  Even places that seem to not work for a fireplace, people seem to build in.
Now, you don't have to build a massive structure to have it be the focal point.  If you position your fireplace in a way that the flame is visible from inside your house, it becomes a very cool feature in that you can build a fire for ambiance.  It's so peaceful to have a fire crackling and you don't even have to be sitting next to it to enjoy it.
Outdoor Kitchen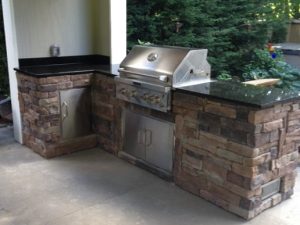 Holy cow, who doesn't like to grill?  I don't know anyone right off the top of my head.  Most homeowners will have a small Weber grill or a cheap standalone grill on their back patio.  Over time, it will probably be in a state of rust and full of cobwebs.  It's probably because the backyard wasn't welcoming.  It wasn't a place where the homeowners wanted to spend their time.  Ah, but build a nice outdoor kitchen and it becomes a destination… a "cooking" destination.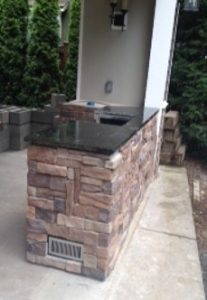 Adding an outdoor kitchen, can be as simple as encasing your existing standalone grill, with countertop to the sides.  More extravagant structures may have a raised bar area with stools, a refrigerator, a sink, or even a pizza oven added.  The possibilities are endless and will de
pend on how much room you have to work with.  The layout could be rectangular, built like an "L" shape, or even a "U" shape.  Drop in grills can be purchased for reasonable costs if you look around enough, and you can opt for propane or natural gas.  Building a sunken pit into your structure could even accommodate the use of charcoal, which in our opinion tastes wonderful.
Outdoor Lighting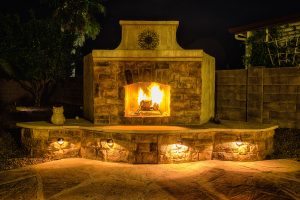 Spend some time looking into your backyard at night and think about where you would add low voltage lighting.  Adding a transformer and some perimeter lights in the yard can add a lot of character.  Upward lighting on trees and bushes can add visual depth that all but fades away at night.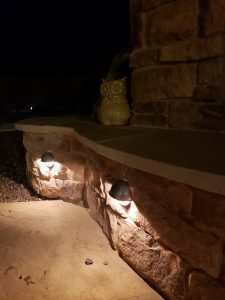 If you add the lighting to a structure such as a fireplace or outdoor kitchen, you will bring those structures to a focal point.  Many homeowners will incorporate lighting throughout their entire yard and through structures, having it illuminate all at the same time.  This is a really elegant look.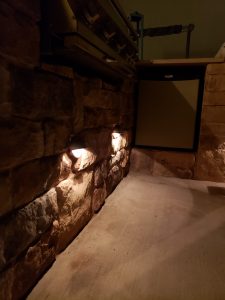 Potted Plants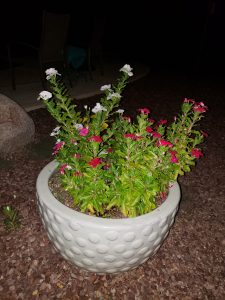 The right pot or three with colorful flowering plants puts the finishing touch on many backyards.  The flowers provide a visual pop of color not usually found anywhere else in a backyard.  With colorful pots or textured pots, you can add lots of cool looks.  Change the flowers each season for different colors or type of plants.  If you add a drip line into the pot, you'll be able to minimize the maintenance time and possibly forgetting to water the plants.  They don't tend to live very long if they don't get water.
Shaded Seating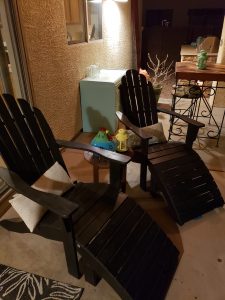 Last on our short list for a beautiful backyard but not even close to being the least important, add some shaded seating to your outdoor space.  On cool mornings, I will grab a cup of coffee and sit in my Adirondack chair with my feet propped up.  This chair lives under my patio cover, adding lots of protection from sun fading.  When I want to venture out from the confines of the patio cover, I can relax in one of my teal colored padded chairs.  The rectangular shaped glass table sports a teal colored umbrella providing great sun protection for most of the day.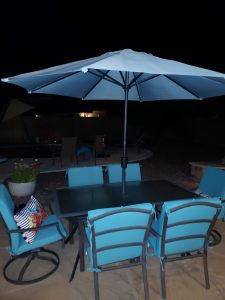 Just adding a few different places to sit comfortably in your backyard will offer the look of a welcoming area.
Over time, with these few things added or built in your backyard, you will have transformed your outdoor space and you will hopefully have a beautiful backyard that begs for usage.  Lots of usage.  And who knows, maybe you'll add all five recommendations, completely renovating it to the envy of all your neighbors.
If you have any questions about any of the suggestions, or if you want to build an outdoor kitchen and/or outdoor fireplace, visit www.backyardflare.com.  We'll help you with your project and provide you with a very comprehensive DIY construction plan.  Most if not all the guesswork will be gone.