Our DIY Fireplace Customers Rock!
Backyard Flare DIY fireplace customers are everywhere.  We don't just cater to the Tucson, Arizona area for our customer base.  Our amazing customers are in warm, cool, and even frigid areas.    In fact, they are all over the country and even abroad.
Cold is Upon Us
But, the cold weather is here and the country in a lot of places is already under a blanket of white.  Oh my gosh, and it's only just November, so there are a few months of cold left.  Because of the weather, a good portion of the U.S. is unable to build in their backyards.  There is no possibility of digging into the frozen rock-hard ground for the concrete slab foundation.  There is no way to add water to mortar to lay blocks because it would be so unbearable to work with icy hands in that environment.  You get the point.  Some of you will have to wait, sorry.
It is great that we have a customer right down the street from Backyard Flare headquarters.  Rob in Tucson found Backyard Flare online and contacted us for help building his outdoor DIY fireplace.  When Rob realized we were right down the street, he asked for design help.  I spoke with Rob and he introduced me to his backyard.  He wanted a corner fireplace with gas and together we brainstormed some cool outdoor fireplace layouts.  Rob decided to use the Douglas Mini design and morph it a bit to match his and his wife's vision.
And the Process BEGAN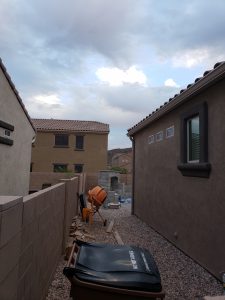 Rob started with his DIY fireplace and he had a lot of questions.  All in all, he has done a fantastic job and I have visited his work site a few times to check in with him.  As a husband, father of two small tykes, and a professional from Monday through Friday, Rob doesn't have a lot of time during the week to work.  He has spent the weekends building and has rocked the progress.  It has taken him a couple months, but he can see that completion is close.
DIY Rob is Doing Great
I went to see Rob's DIY fireplace the other day again and it looks great.  Rob is ready for firebrick, horizontal material, and his veneer.  At that point he will be done.  We hope you love it as much as we do with the gas setup, arched firebox, and the LED lighting he added.  He told us he has never built with mortar and was skeptical as to his abilities, but he was happy he did it.  He learned a lot and he realized that he was a lot more capable than he thought, especially with his construction plan from Backyard Flare.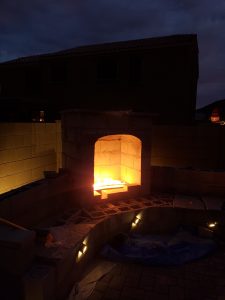 We will continue to bring you photos of his progress and we will definitely feature Rob and his finished fireplace in an upcoming blog post.  If you think you are ready to step into a DIY outdoor fireplace build, like Rob, and are ready to transform your backyard, visit Backyard Flare and we can help.  We know that you can do it, and, just like Rob, you just need a DIY construction plan to follow.
We Are Here For You Too
If you have any questions about anything, please let me know.  I am always excited to hear from a fellow DIYer, or someone wanting to learn more about how to beautify their backyard space with a DIY fireplace.  I can be reached at dan@backyardflare.com and as I always say, "Happy Building".
Dan