Building a Dream Backyard
The latest fireplace profile comes to you from South Carolina.  Builder and homeowner Nick had plans of building a dream backyard and he contacted Backyard Flare, LLC for help.  Nick is a DIY enthusiast and he knew he could build his own outdoor fireplace. He chose the Douglas design and got his construction plan from Backyard Flare.
Starting Off With a Blank Slate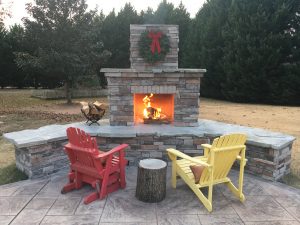 Nick had an existing stamped concrete patio in his backyard with a small flowering garden on one corner.  The patio wasn't designed or constructed with weight bearing in mind so Nick poured an additional slab for the fireplace.  Nick built a wood frame to see the footprint of the structure as well.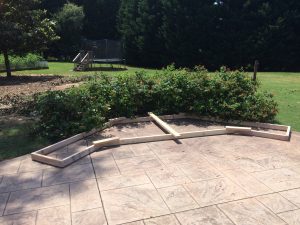 Drainage was added to the slab so that water would not accumulate.  This is a very smart move when building a non-linear structure.  The drainage was built through the entire slab so any water drained behind the structure.
Nick's DIY Construction
The cinder block work was started with the wing walls built to the same height as the main seating section.  The normal Douglas design has the side extensions higher than the center seating section so this modification was Nick's vision.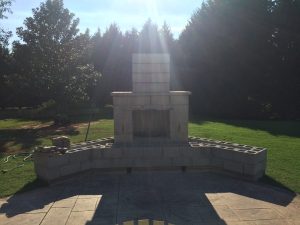 The entire structure was built in rough form, then it was time for veneer and finish work.  Nick covered the horizontal surfaces with a neutral flagstone.  The edges were left rough for a great outdoor look.  Nick chose a great looking faux stone with a relatively small pattern.  The pieces were not all the same size so there was a bit of puzzle piecing the veneer together.  This task slows down the construction but it makes for a great looking veneer pattern.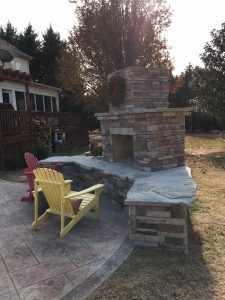 After the construction was completed, Nick added a couple colored deck chairs and a rustic piece of log for a small "beer holder".  The chimney was adorned with a great looking wreath and a log holder was added for spare firewood.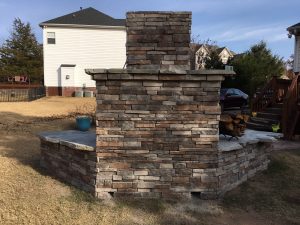 Build Your Own Dream Space
If you would like to explore the possibility of building an outdoor structure such as a fireplace or outdoor kitchen visit us at www.backyardflare.com.  We will help you with all your design needs so most of the guess work will be taken out of it for you.  Thanks for reading and we hope to hear from you.  Happy building!