Get Excited
Oh my gosh, I am excited about this DIY summer.  So many people are diving into great DIY outdoor fireplace and outdoor kitchen projects.  We have received countless emails and calls about custom fireplaces and are really pumped to see these structures built.  There are so many great ideas and backyard spaces that are begging for a stunning outdoor fireplace.  Do you have one of those spaces?  If you said yes, we want to hear from you too.
The best part about a late spring and summer build is that you can take your time on the construction.  By doing most of the building during the hotter parts of the spring and summer, there won't be any rush to complete the structure.  Your construction can be solely a few hours each weekend or sporadic hours throughout the week.  Those cooler days will arrive and when they do, the fireplace will be ready to go.
I was at a graduation party a couple days ago and it just so happened to be at a friend's house where I built Backyard Flare's second ever fireplace.  This structure is absolutely huge.  I remember building this structure in the heat of the Arizona summer, under the beating rays of the sun.  Plenty of water was consumed and I think we are still paying off the credit card bill from our purchase of sunscreen.  We killed a saw while cutting block and even drew a little bit of blood during the build.  Those things at the time were a nuisance, but now I look back on them and smile, remembering all the fun we actually had during construction.
Reminiscing an old DIY Summer
During the graduation party, I ventured out into the backyard and walked around the fireplace to reminisce.  It was built on an old basketball court after the homeowner's kids grew up and moved out.  I wanted to stoke up a fire, but because the temperature was still in the 90s, I decided that that wasn't necessary.  I took a few pics to show my wife that the fireplace still looked great after more than ten years.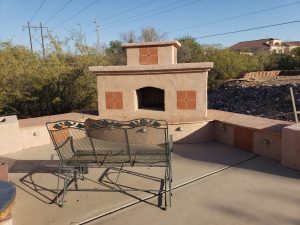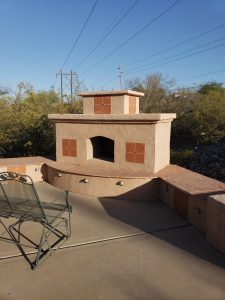 What I'm getting at is that a well built outdoor fireplace or kitchen becomes backyard furniture in a sense. A decade later, a fireplace will still be there, begging to be used.
Contact Us
Let us know how we can help if you are interested in stepping into a fantastic DIY build.  Visit us at www.backyardflare.com, email us at dan@backyardflare.com, or call Dan at 520-269-9740.  We would love the opportunity to help you design a beautiful fireplace or kitchen.  Take care and as always…happy building!
Dan Heston