This Outdoor Fireplace is Amazing
Welcome back to my fellow DIY'ers and welcome to this edition of, "That Awesome DIY Fireplace" where we introduce a DIY homeowner, tell you what state they reside in, and show you how awesome they were at building their own outdoor fireplace.
Let's go to the southeast, in beautiful Louisiana, to introduce homeowners Blaine and Kristen.  Their backyard needed a little extra something and after a bit of thought, they decided to build an outdoor fireplace.  Blaine and Kristen started their research online through Google searches and read a lot of material on outdoor fireplaces.  While on one of their searches, they found Backyard Flare and decided to use the Pima II design, outdoor fireplace construction plan to build the fireplace.
Blaine's World…Excellent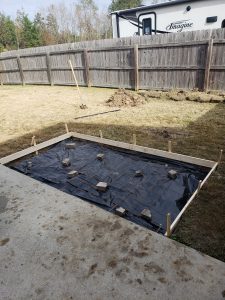 Blaine and Kristen have a brick home with a grassy backyard surrounding a poured concrete patio.  Blaine dug out dirt next to the patio and formed the area for the slab.  Steel mesh was added inside the concrete pour and they successfully poured the slab extension.  The extension concrete was added so the fireplace didn't have to be built on the main patio concrete.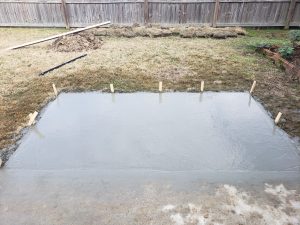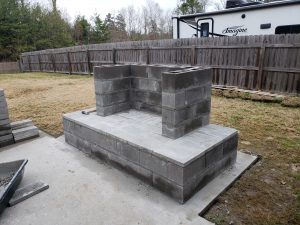 Blaine and Kristen followed the Backyard Flare outdoor fireplace construction plans and hit it out of the ballpark with their newly found masonry skills.  It really should be noted that Blaine and Kristen are not masons, nor have they worked a lot with cinder block and mortar.  They just followed the outdoor fireplace plans and called Dan at Backyard Flare with questions here and there.
Time For Veneer Choices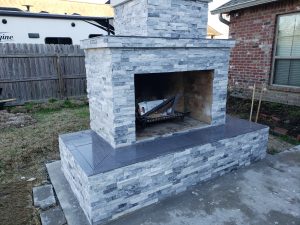 After the cinder block was done, Blaine and Kristen decided on a real nice stacked stone veneer in a soothing gray tone.  It turned out beautiful.  For the horizontal surfaces like the seating and the mantel, they picked a tile with a complimenting tone, and because they had covered the seating surface with solid 2" tall cap block, there was a great flat surface for the tile work.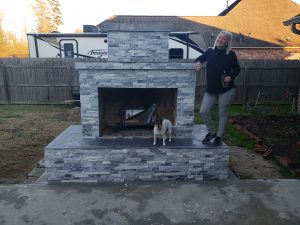 When it was all said and done, Blaine and Kristen added a fire grate in their firebox and started building fires.  They immediately began building memories and are very happy with the final project.  What's next for them?  Maybe an outdoor kitchen or pizza oven?  Time will tell, but until then we'll let them enjoy all their hard work on the fireplace.
Where Can You Go?
We sure hope you like Blaine and Kristen's Pima II outdoor fireplace and that it inspires you to think about one of these outdoor fireplaces in your backyard as well.  It's really not out of reach to achieve a stunning outdoor living space, so think about your potential.  Blaine and Kristen proved that average homeowners can make it happen in the world of DIY.  If you have the DIY mindset, we can help you achieve greatness.  Backyard Flare has assisted hundreds of homeowners who are weekend DIY'ers, realize their potential to build outdoor fireplaces just like Blaine's and Kristen's, so you can do it too.
Thanks so much for reading about another great DIY outdoor fireplace build.   We'll bring you more soon, and as always …happy building.
Dan Heston