We Love DIY Outdoor Fireplaces
Hello again all you fellow DIY'ers and welcome to this edition of, "That Awesome DIY Fireplace" where we introduce a DIY homeowner, tell you what state they reside in, and show you how awesome they were at building their own DIY outdoor fireplace.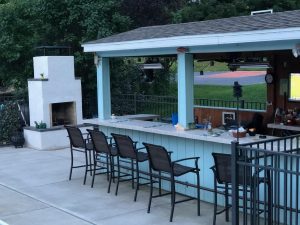 Let's go to the northeast, beautiful Pennsylvania, to introduce homeowner Mike.  Mike had a very cool outdoor pavilion space with a long entertainment bar, bar stools, outdoor kitchen; and it was party central.  To the side of that space, Mike had a bare corner concrete spot that begged for something like a fire structure.  In April 2018, Mike visited www.backyardflare.com, and picked his favorite design, the Phoenix fireplace.  He wanted a smaller footprint for the fireplace structure but something big enough to not feel dwarfed by the surrounding features, which were trees and a wrought iron fence just outside the corner of the concrete slab.
Construction Starts
Mike started laying block, paying attention to the block layout and instructions of the construction plan. Before he knew it, Mike was a DIY mason who had never really tried to do a project of this caliber.  Mike stated that he just needed a little bit of help and that the construction plan was what he needed to give him the confidence to start.
Mike kept a super clean work site and made sure he didn't let the mortar remain on his concrete pad for very long.  This made the final cleanup easier than it would have been, saving time and aggravation in the end.
Adding the Final Touches – Detail Work
When Mike was finished with the rough build, he started the lining of the firebox with firebrick.  This process was pretty quick and before he knew it, Mike was ready for the final veneer material.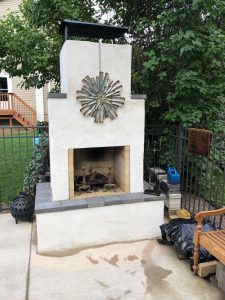 Mike chose to cover his outdoor fireplace with a stucco finish.  Mike's technique was to go with a smoother final finish.  The seating was covered with dark stone material giving a great contrast to the white color of the structure.
Mike added a smoke arrestor to the top of the chimney to catch and extinguish embers that tried to escape from the top.  With the fireplace facing right into the entryway of the outdoor pavilion, Mike's party central area became even more stunning.
Mike added a very cool fire grate in the firebox and a piece of chain suspended metal art to the front of the fireplace.  With a raging fire, behind the fire screen, it is just gorgeous.
We Know Mike is Now a Mason
Mike told Backyard Flare, "your plans were fantastic", and that he wasn't a mason.  We beg to differ and debate that last statement.  We see what Mike did and with no previous masonry experience.  Mike, you're a mason now and we're very proud to include you into the Backyard Flare DIY family.
We sure hope you like Mike's fireplace and that it inspires you to think about one of these fireplaces in your backyard as well.  It's really not out of reach to achieve a stunning outdoor living space.  Mike said he wasn't a mason, but we know it's just the unknown.  We'll help you through it.  If you have the DIY mindset, we can help you achieve greatness.  We have assisted hundreds of homeowners who are weekend DIY'ers, realize their potential to build fireplaces just like Mike's.  You can do it too.
Thanks so much for reading about another great DIY fireplace build.   We'll bring you more soon, and as always …happy building.
Dan Heston
520-269-9740